MICHAEL R. WEGER
Email: Michael R. Weger
Mike carries on a general practice with a focus on Real Estate, Estate Planning and Corporate Law, as well as Family Law, Civil Litigation and Criminal Defence. Mike has particular interest in Criminal Law as he likes the extra bit of excitement that it adds to his day. Mike's areas of interest keep him busy representing many clients throughout South East Saskatchewan.
STEPHEN J. SCHUCK
Email: Stephen J. Schuck
Steve carries on a general practice with a focus on Real Estate, Wills and Estates, Corporate, Oil and Gas, Criminal and Family Law and Civil Litigation.
Stephen grew up in Weyburn and is happy to be back and help the people of his home town.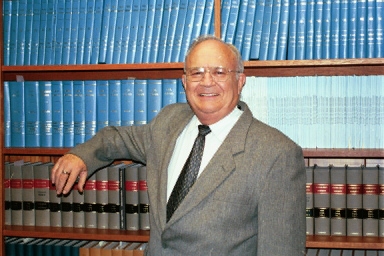 STAFFORD E. NIMEGEERS
(retired)
Stafford was born in Ceylon, grew up in Ralph, and has been living in Weyburn since 1967. He is very involved in the community, having served as a Director of the Weyburn Co-operative Association and Chamber of Commerce, Trustee of the Catholic School Board and President of the Weyburn Rotary Club. He has also been active in Weyburn Community Development Committee and the National Elks Club. Stafford practiced law continuously in Weyburn from 1967 until 2005 and he is now retired.
THOMAS A. SCHUCK
(retired)
Tom retired at the end of 2018 and still resides in Weyburn, Saskatchewan.
Tom previously worked quite extensively in Oil & Gas Law and Corporate Reorganization, especially with the establishment of Family Trusts, Taxation and Estate Planning. Utilizing tax knowledge, he prepared numerous Wills and Family Trust Wills. In March, 2000, he was one of the presenters to members of The Law Society of Saskatchewan on Multiple Trust Wills and Family Trust Wills for the Estate Planning Seminar sponsored by the Saskatchewan Legal Education Society. more...
RONALD J. WORMSBECKER
(retired)
Ron retired at the end of December 2012 and is still situated in Weyburn, Saskatchewan.
Ron practiced in all areas of law with some emphasis on Family Law. Ron was also a registered Collaborative Law lawyer in Saskatchewan. Collaborative law is a much less costly, non-adversarial approach to resolving family law issues such as custody and division of property.
Having served as an MLA, Ron gained insight into the operations of government bureaucracy. His clients benefited from his experience in matters involving government agencies and bureaucratic red tape. more...
D. GREGORY BOBBITT
(retired)

Greg retired in July of 2011 and had a one year stay on the west coast with his wife and daughter, and he has now settled into retirement in Rosthern, Saskatchewan.
Greg acquired the reputation as an accommodating, fair and excellent lawyer, particularly in the areas of Real Estate, Business and Corporate Law. His appointment as Queen's Counsel in 1986 confirmed his credentials and distinction.
Greg's clients appreciated his personal touch and his concern for their particular needs and circumstances. His personable nature, and forceful representation of his clients, made him a popular and successful lawyer. more...